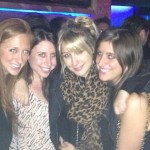 Here's how the conversation went. I see a picture of my daughter on Facebook looking chic in my "missing" Louis Vuitton leopard scarf with her hip & trendy friends. I write under her picture using (the latest social media lingo) ###hashtags…
Me…#fabulous #scarf ever returning it?
Daughter…why r u up so late?
Me…I've been looking for my scarf!!!!