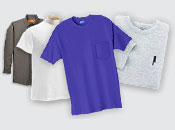 While in the throes of New York Fashion Week…the girls and blogging team from A Few Goody Gumdrops decided to hit the runway shows wearing matching outfits.We thought what would be trendy, stylish and unique? We came up with a "name dropping" idea!
We'd wear purple tees with the goody gumdrops name & logo paired with skinny black jeans and fringed ankle booties. Bright tees are one of the hottest trends this upcoming season.
How cool…we were noticed wherever we went and were more "on trend" and "eye-catching" than a simple business card! We prepared goody logo canvas totes for many of our blogging friends complete with logo tees, logo pens and bright purple logo piggy banks! Always trying to be ahead of the fashion curve.
It's fun to advertise your business in a non traditional way. If you're looking for promotion ideas, you can check out what places like Quality Logo Products have to offer.They typically have things ranging from simple pens or buttons, to advertising specialties for a small business. There's no better way to make a fashion statement than with a great logo tee, tank or top. For us cotton logo tees were a great way to stand out in the fashion crowd and promote our biz! (very resourceful of us!!!)