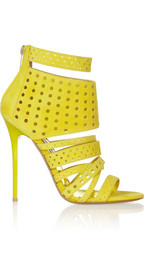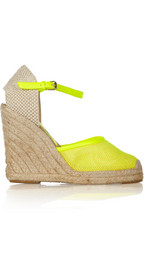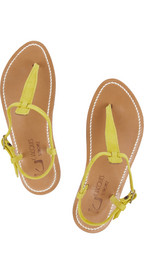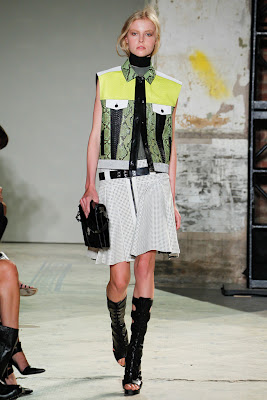 There's no better time than now to buy a pair of edgy "WOW" shoes for spring/summer or your winter vacays. Bright colors are one of the hottest trends this upcoming season and seen all over the runways for spring and summer 2013. (seems there's always a resurgence of neon popping up every year or so) Personally, we're so tired of neon pink, orange and green.
Enter…acid yellow more commonly known as chartreuse which is cheery, full of energy and bold. Makes an "eye popping" statement with an all black or white outfit, black & white stripes or don the trendy color with a Proenza Schouler dress (seen above) that features this electrific color.
Jimmy Choo's Mailika perforated suede sandals, Stella McCartney's wedge espadrilles and Pedro Garcia's Zuriel Swarowski crystal-embellished canvas sandals are all just BRIGHT for spring/summer.We always tend to buy black cuz it's safe and wearable. Fashionably speaking, I think it's more exciting to have one bright accessory to enhance any look. Click the link to indulge Acid Yellow! Certainly hope we can find acid yellow nail polish to match our sandals.