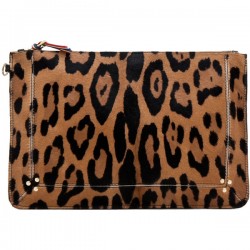 Being a totally obsessed animal print bag collector we recently "spotted"
the Jerome Dreyfuss
Leopard

Popoche

Clutch
and it's worthy of adding to our existing collection…not to mention he's married to designer
, Isable Marant.
 As far as leopard goes the bag is fairly reasonable, a mere $450. Most of the leopard bags we spotted were $1000 and upwards. It's an investment but leopard print is here to stay and can be carried year round.
Very on trend for next fall, too!
We actually really like the leopard design and pattern of Jerome's clutch…the size, shape and layout of the "spot"s work. The bag features a navy blue cotton lining, a colorful zip pull tab to open/close the bag and measures approx 11.5″W x 7.5″H x 0.5″D with just enough detailing at the corners of the bag. The actual color of the printed hair-calf bag is spottingly just right! Some of the leopard bags we've reviewed actually had a mustard, greenish or orange hue.
The Popoche clutch is the perfect piece for daytime or evening and has
so many looks
…
rocker, edgy, cool, classy, chic, dramatic & more. We're saying you can use it anywhere. It pairs with so many wardrobe colors and looks great carried under your arm. We'd wear this leopard clutch with J Brand's Super Skinny Jeans in Revenge and a pair of sky-high leopard Louboutin's or an Azzedine black cocktail dress with Charlotte Olympia's Belinda Platform Bootie Sandals in Black. Many different looks for one classic animal print bag. As far as we're concerned…carrying an animal print bag is year round.
Click the link to indulge
Dreyfuss, J Brand & Olympia.