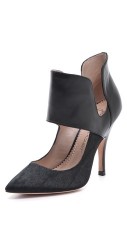 We're always looking for that edgy high-styled pump with superb detailing that will take you everywhere. That's why we're sharing JEAN-MICHEL CAZABAT'S must-have black Isola Collared Haircalf Pumps. Very cool looking!
What we're loving about these fashion-forward pumps is the modern design on the traditional boring black pump. They're sleek and sexy with hair calf detailing at the toe and sidewall. Cazabat's funky cuff enhances the ankle while elongating the leg. Available in dusty rose and black combo, as well.
We can't forget to mention the stiletto heel which we've yet to master. For us…just another car to restaurant shoe. As you know by now "the stiletto" never stops us from buying a shoe we love. We just wear flip flops til we get to our destination then shove on the desired pump. Not a big deal if you can't move your foot once you've got them on. Although we've heard these pumps are comfortable. Click the link to indulge! Be sure to check out the Alexander Wang and Elizabeth & James shoes!