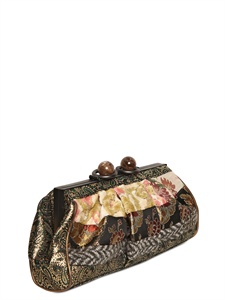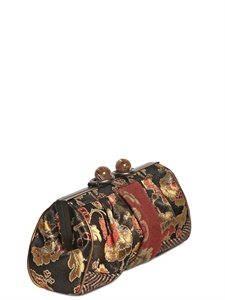 It's a sad truism in the fashion world: yesterday's trash is tomorrow's treasure.
It's not just the hipsters who love beautiful old bags, either. Vintage has gone "high end." Consider Antonio Marras's Patchwork of Vintage Material, an Italian made bag with a detachable metal chain shoulder strap, cotton drill lining, and strong metal structure with a clasp closure. The panels are needlepoint and brocade, and vintage wool tweed is used liberally to delightful effect. And here what's super fun: each piece is hand built, using different vintage fabrics, so your bag's pattern will be unique, almost like a finger print.
Vintage fabrics, dresses, and materials have been all the rage in 2012, and forecasters believe that the "I wear your granddad's clothes … I look incredible" vibe (hat tip to upstart rapper, Macklemore) will continue into 2013 and beyond. What's up with the ineffable appeal of the vintage look? Perhaps the vintage vibe appeals because you get to buy and wear items that are definitively NOT coming off an assembly line but rather that are imbued with history and a degree of authenticity.
Not to get too "deep" in a post on fashion, but our recent passion for vintage materials probably speaks to our collective rejection of the cookie-cutter consumerist mentality that's all around us, especially during the holiday shopping season.
Some part of us – the romantic, poetic part – probably longs for the days when life was simpler and fashion was more personal and more "connected." The reason we all can relate when Macklemore intones "I wear my granddad's clothes … I look incredible" is that we all need to connect ourselves to the past through stories and close relationships.
A gorgeous vintage bag like this Antonio Marras masterwork might thus serve as a kind of totem to connect you to a happier and more beautiful past. And hey! It's also shiny, gorgeous, and beautifully constructed, which are all big pluses! Click the link to indulge.