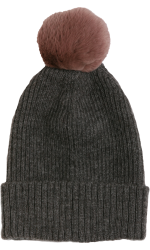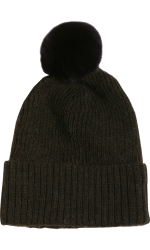 Now that winter is almost here, it's time to start wearing a warm hat. We have the perfect pom pom hat for all those freezing winter days that will be upon us real soon. If you've looked at this hat and thought…OMG I love it but it's way too costly…it still is except the price has been reduced $$. Throwing on the latest Lanvin accessory is effortless especially if it's a bad hair day.
This is not just any pom pom hat. It's sophisticated and oh-so chic with it's rabbit fur pom pom. We definitely think it's time to start wearing Lanvin's Pom Pom Bonnet. Think how warm your ears will be and how cute you'll look! Lanvin accessories are pricey but they're timeless pieces that can be worn for seasons to come. They're made incredibly well. The Pom Pom cap is available in grey or khaki and features a coordinating pom pom and ribbing on the hat and cuff. Probably works with any puffer in your wardrobe.
We've tried on many hats and they're tight, hurt your forehead, they itch and more (complaints). This hat combines both comfort and style. Click the link to indulge and be sure to view the entire Lanvin collection. You never know what else you may find….Lanvin's Strass and Crystal Tutti Frutti Earrings????? Pair Lanvin's Cap with Maison Martin Margiela's Feather Coat for a totally exciting look.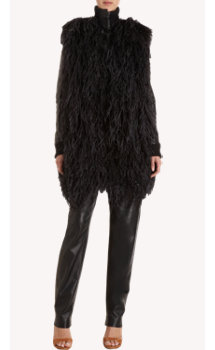 XOXO,