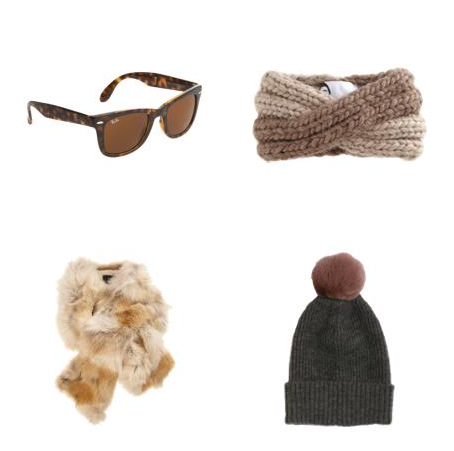 Now that winter is almost here, we've selected some fashionable goodies (or stocking stuffers) for you. Winter accessories are a must-have especially if you live in a cold wintry place.These accessories combine warmth, comfort and sophistication. Our top fashionably stylish picks are: Ray Ban's Wayfarer Folding Sunglasses, Eugenia Kim's Lula Turban, a Fur-Pull Through Scarf and Lanvin's Pom Pom Bonnet. We're sure you'll agree with our top choices as these aren't just any winter accessories!
There's nothing like a cool pair of Ray Bans. Most of us wear sunglasses all year long….helps protect our eyes from any winter sun. (is there any???) We'd pair Ray Ban's classic Wayfarers with Eugenia Kim's wool turban featuring the criss cross front. What a great option for those who don't want to wear a hat. Very chic look, too. We prefer a hat covering our entire head. We're loving Lanvin's wool hat with the coordinating rabbit fur pom pom. Warm, comfy and perfect for those chilly days and nights. Lanvin's must-have is also available in khaki with a black fur pom pom. Our most essential winter lust-have piece is the glamorous coyote fur scarf lined in silk. This looks amazing around the neck and is ultra stylish. It's neutral color works with any puffer or cashmere coat in your wardrobe. Four great pieces for any ski trips, too!
There's nothing like warm and oh-so chic winter to accessories to keep you looking fashionable all season long. If you live in places like us with freezing temperatures Click the link to indulge. You may find a few amazing price reductions when clicking the link.There's always super shopping when you click any of our links. Let us know what you purchase for this season.