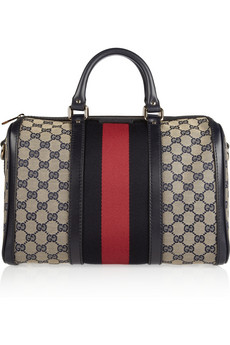 I'm always shopping the best finds for my readers and spotted this Gucci bag.This bag brings back so many amazing memories. I had this bag in navy "many" "many" moons ago when I was in college…the stress free days!!! My Dad bought my Mom and I matching Gucci bags on Worth Ave. (Palm Beach, Fla)
I was the quintessential bag "shopper" way back. This bag is called the Vintage Web Monogram Canvas Duffel Bag. After I read the name "vintage" I knew it was my bag from years ago. I would say…it's become a classic after all the years. Timeless would be the word.
The bag features Gucci's iconic 'GG' design and the center stripe. Years ago when a bag "aged" you tossed it. Oh…how I wish I had saved my old Gucci, Louis Vuitton, MCM, Trussardi, Dior and Courreges bags. Who knew many of these bags would become pricey iconic staples. My first Louis Vuitton Speedy was purchased (also during my college years) in Bal Harbor, Fla and was $95.00.  Click the link to indulge an "oldie" but classic "goodie".