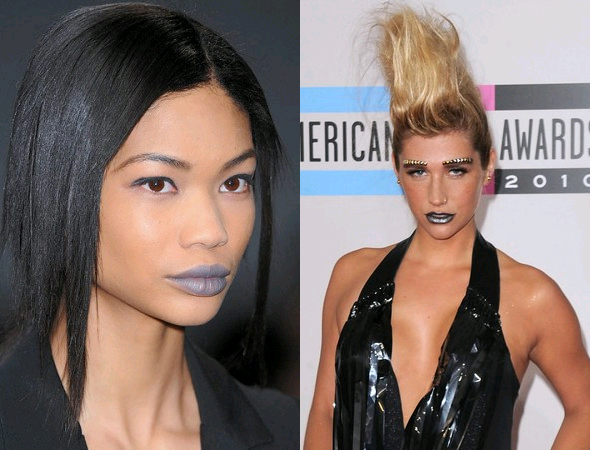 Our friend and guest blogger Ehmonie Hainey-Clarke from the fabulous blog….What's Haute is sharing the latest lipstick craze. Ehmonie asks, should we blame "Fifty Shades of Grey" for making grey the "it" color of the year? Personally, we think the color is atrocious. A few years ago AFGG introduced our readers to black lipstick which took quite awhile to get used to. Many of our readers were aghast. When we think of grey we think of men's suits, cashmere sweaters, handbags, overcast skies and aging hair. Are we now ready to usher in this latest trend….grey lipstick?
Here's what Ehmonie had to say! In recent years grey makeup has become a fashion-favorite.There's nothing wrong with a little grey eye shadow or liner to give your eyes that serene, sultry look. We've certainly enjoyed grey nail polish–in shades ranging from matte to metallic. But grey lipstick? Definitely not so sure about this one. Singer Ke$ha and model Chanel Iman have both rocked the grey lipstick trend at major events. Grey lips will certainly take time getting used to as the celebs featured above look like their lips are turning blue.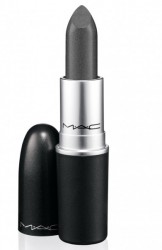 MAC released its 'Grey Friday' limited edition lipstick on Black Friday while Estée Lauder offers a 'Pure Color Vivid Shine' Lipstick Luminizer in gunmetal grey. Everyone's been chatting about this new trend. Is the real world ready for grey lips? Is it haute or not? You decide!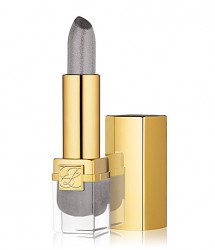 A Few Goody Gumdrops wishes to thank What's Haute for introducing us to the latest rage….grey lipstick! We hear these lipsticks have been flying out the door. Is grey lipstick a trend that you would follow? We can't wait to hear what you think. The strange things is…we're off to buy this!