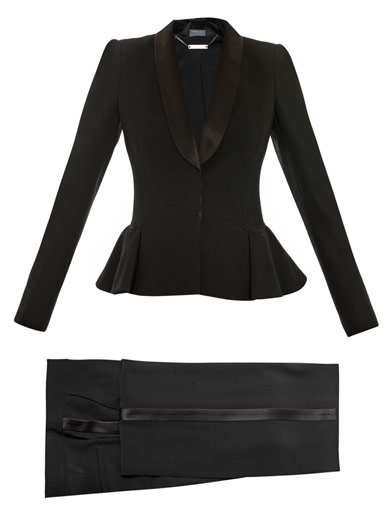 There's nothing more timeless and fashionable than a women's tuxedo. For years that's all I wore to cocktail parties, weddings and special events.I had a closet full of tuxes mostly from Armani. Now it's time to invest in an updated modern version. The one to own this season is from the "legendary house" of Alexander McQueen. McQueen is known for "exquisite tailoring" and stylish clothing not to mention the most fabulous box clutches and whimsical scarves. Why not ring in the New Year with an Alexander McQueen tuxedo!
This black leaf crepe tuxedo from Alexander McQueen is so chic with an edgy twist featuring the high styled peplum, satin lapels and stripe down the trousers. This is definitely an investment piece and can be worn for seasons to come. Women look exceptionally sophisticated and sexy in a cool black tuxedo pant suit.
Pair with Christian Louboutin's Pigalle patent leather black heels and Bottega's Oro gilded leather knot clutch for a simply elegant look. This is the perfect outfit for all your holiday parties. McQueen's tuxedo can be dressed up or down….whatever you prefer. We prefer statement earrings and a cocktail ring keeping the look smashingly elegant. Click the link to indulge. McQueen, Bottega and Christian.