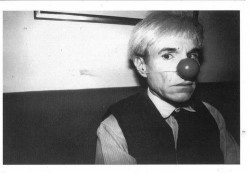 Although I have just finally memorized the real names of the reindeer thanks to my iPhone I thought it would be fun to "fashionably" re-name them! I've chosen some of my favorite fashion designers! Here we go "laughing all the way"…Veneta, Marant, Azzendine, McQueen, Vince, Roland, Lanvin, Birkin and of course, Warhol would be my Rudolph.
How would you fashioanbly re-name the reindeer?
photo courtesy of Warhol's facebook page.
XOXO,