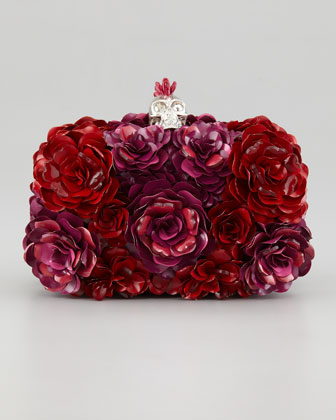 Remember back in grade school, when you had a special lunch box that boasted almost a totemic quality? Maybe it was a My Little Pony lunchbox or your older brother's Transformers lunchbox, which he deigned to let you borrow. In any event, you loved carrying it. Somehow, it made even your PB&J taste better.
Few "adult" bags come close to evoking similarly passionate emotions. But every once in a while, something hits that mark.
Enter Alexander McQueen's Metal Flower Box Clutch. At first blush, you could be forgiven for confusing it for a glorious Renaissance painting somehow rendered "3D." We could go on and on describing the ornate metal flowers in full bloom, the signature Alexander McQueen Crystal skull on top, the leather lining, the silver tone hard shell case, and the rhinestones (of course the rhinestones).
But in this case, even a thousand words wouldn't equal a picture. Just a glance at this Italian made clutch is really all it takes to get "hooked" on the hypnotic design of the interwoven floral pattern. There's something about it — you just want to reach out and touch it.
Floral designs, when done right, have a nearly unparalleled capacity to tingle our imaginations. Recall the movie American Beauty — the way the cinematographer used the Theme of Flowers to depict newly ravished innocence. In the hands of the right artisan, floral themes can touch upon all the dramatic themes of humanity: life, death, beauty, love, loss, indulgence, luxury.
Obviously, we don't want to pile on too many metaphors – or too much significance – to this bag. A clutch is a clutch, in some sense. That being said, you only go around once. What do you want YOUR emblem to be: a gorgeous piece of art like this Alexander McQueen original, or a no-frills satchel dedicated to "getting the job done" and little else? The choice is yours.
Whether you want to impress friends (or potential suitors) or merely embellish your wardrobe with cool fun accessories, put this bag on your list of "exciting fashion items to check out and maybe buy if my luxury shopping budget allows." Click the link to indulge. There's nothing like owning a McQueen!