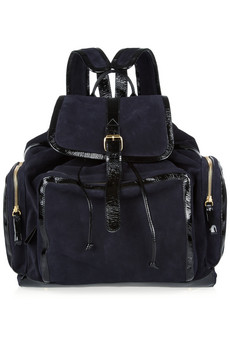 The world of "backpack fashion" is infected with an unfortunate meme, or mental virus. It says that you can have: A) A functional backpack, that allows you to actually carry stuff; B) A gorgeous high-end pack that's really just for show; and C) but not both. Nonsense! Giving the lie to that meme is Pierre Hardy's fantastic patent leather-trimmed suede backpack, a navy suede bag with two straps, a plethora of patch pockets, gold hardware, and internal zip fastening pockets. This black leather lined luxe contemporary backpack is both highly useful AND awesomely chic.
Yes, since it's suede, you probably don't want to take it camping. But you need not be overly precious with it, either. It's big, roomy, and tough.
Here are 3 fun applications for this backpack:
Great for business trips/lectures.
For instance, maybe you're an online business maven who bounces from blogging conference to SEO workshop. You need a handsome bag to tow your laptop, slides and swag. You want to avoid looking like a fashion-challenged middle-schooler hopscotching to school or a bloodless businesswoman with no personality. You want a bag that looks cool and feminine that ALSO offers practical benefits.
Great as a gift.
This Pierre Hardy original also would make a great gift for any young, fashionable woman in your life.
Great for pleasure traveling.
Let's face facts. You're not a freshly-minted college grad planning a trek across Europe. If you were, you might settle for some ratty-looking Landsport bag made lousy with sewn-on patches of the Australian or Canadian flag or whatever. No. You want something actually nice looking!
For far too long we've been fed a myth that convenient accessories cannot be luxurious and vice versa. You don't have to choose between a teeny chic white purse incapable of carrying more than your sunglasses and a banana and a manly, embarrassingly cheap-looking blahh of a bag.
Check out silky smooth utility chic backpack today. The best of both worlds! Click the link to indulge Pierre Hardy's Backpack!