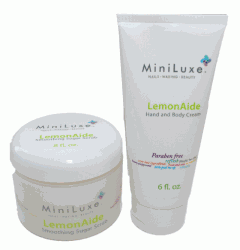 We're so excited about this amazing GIVEAWAY! We've teamed up with the MiniLuxe Salon in Chestnut Hill, Massachusetts.We're offering our local readers a chance to win a luxurious Manicure/Pedicure plus MiniLuxe's very own LemonAide Lotion and Scrub which are paraban and sulfate free. In addition to this Spa package you will also receive a $25 Gift Card for your next spa treatment.The total giveaway package is valued at $125. Who doesn't love feeling like a princess and being pampered and spoiled? "MiniLuxe brings out the beauty in life and the beauty in you".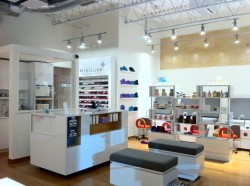 MiniLuxe is a full service nail salon offering, manicures, pedicures
and waxing…just to name a few of their tantalizing services. We love their warm oil manicure and pedicure using a soy based candle for the massage portion of the service. An incredible treatment and we know "first hand". The staff is delightful and will pay attention to your slightest detail.They take extreme pride in maintaining a clean and sterile environment for all their customers. All nail files and buffers are used once in your service and then disposed. All tubs are jet-free so the water is fresh for each pedicure. Miniluxe is located at 639 VFW Parkway in Chestnut Hill, Ma 02467. The prize can ONLY be redeemed at this location and will be waiting there with the winner's name on the certificate.
In order to win this indulging Spa Package:
2.MiniLuxe always feature the latest shades designed to complement your wardrobe Leave a comment on this giveaway post telling us your favorite hot new shade of polish! Our's is Essie's latest
,"

She's Pampered

"
The winner will be chosen at random by MiniLuxe. The contest will run for two weeks beginning 11/8/12 and will end 11/21/12 at 11:59 PM EST. You can claim your prize at the MiniLuxe Salon on 639 VFW Parkway, Chestnut Hill, Ma. Please provide a valid email address so if you are the lucky winner we can contact you. The winner has 48 hours to respond by email. If there is no response an alternate winner will be chosen. Only residents of Massachusetts are eligible to enter and/or claim the prize.You must be 18 years or older to participate in the giveaway.
A Few Goody Gumdrops wishes to thank MiniLuxe for sponsoring this  "Nail Biting" GIVEAWAY.