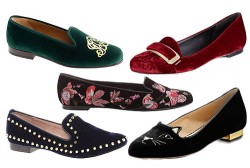 As much as I love dressing up in the highest heels I can find – even for no particular reason on your average Wednesday – my inner homebody is always super-excited when trends take a turn in the comfier direction for the upcoming season! Loafer-inspired flats and smoking slippers have been every in-the-know fashionista's go-to flats for awhile now, but as the weather cools down, the footwear fad seems to keep getting cozier and even more literal.
While I'm sure I won't be able to break out my retro Ninja Turtle slippers in public any time soon, I still appreciate that velvet smoking slippers are all the rage this season, inspired by the luxe versions that British high society would don in the comfort of their own homes back in the day. Pair them with some skinny jeans, matchstick slacks, or tights and some fall-friendly leather shorts for a chic (and comfy!) fall ensemble!
Pictured above: Stubbs & Wootton for J. Crew Classic Velvet Slippers, Rachel Zoe Lily Velvet Smoking Slipper, AlexanderMcQueen Embroidered Tulip Velvet Slipper, River Island Navy Velvet Stud Slipper, and Charlotte Olympia Cat-Face Velvet Skimmer.