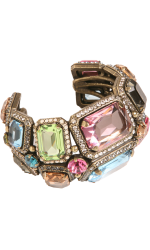 Are you fashion hungry and fabulous? If so, this Strass and Crystal Tutti Frutti Cuff by Lanvin will assuredly whet your appetite. The Swarovski Strass Crystals are cushion cut, rainbow colored, and mouthwateringly succulent — all set in a bronze stone brace cuff.
The bracelet is at once hefty and nimble: 1.75 inch width. It's the perfect accoutrement to "pretty you up" in preparation for a rendezvous with a sexy nobleman or a gala art opening. (Or both!)
The piece looks like it might confer superpowers to its wearer. And, frankly, who is to say that it doesn't? For instance…
•    Perhaps the pale tourmaline-like stone gives you the power of invisibility;
•    Maybe the ghost blue stone gives you super strength;
•    Might the bronze cuff imbue you with extra immunity and life force?
•    Could the lovely burnt-orange crystal make you irresistible to any man (or woman) that your heart desires? Perhaps, perhaps…
But even if the bracelet in no way proves to be magic, wearing it is intrinsically a rewarding fashion experience. You don't need to be Cleopatra or the Queen of Sheba to play at being a powerful titan-ess. You don't even need a goblet of power… or a king or prince on your arm. All it takes is a little bluster and one or two gorgeous accoutrements… such as this enviable tutti frutti bracelet. Click the link to indulge!