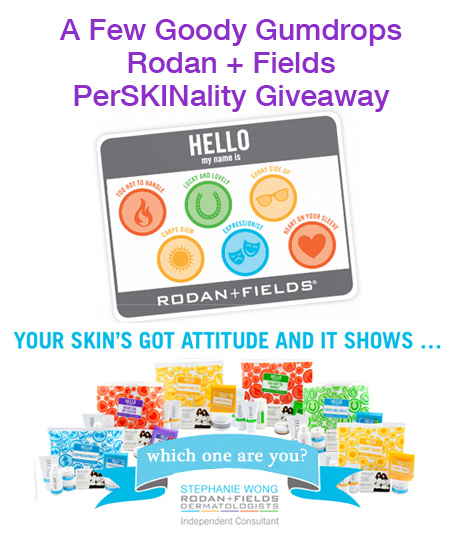 We are obsessed with the new fabulous skincare advice tool from
Rodan + Fields Dermatologists, it's called Perskinality! This skincare advice assessment quiz was created by Stanford-trained dermatologists, Dr's. Katie Rodan and Kathy Fields, to help you to understand your skin and find the PerSKINality skincare collection that is right for YOU. Take PerSKINality for a spin and find out if you are Lucky and Lovely, Too Hot to Handle, Expressionist, Heart on My Sleeve, Sunny Side up or Carpe Diem. You'll be surprised by the results! The retail value of the giveaway is between $189 and $334 USD. PerSKINality was recently featured in Vogue.com and Glamour.com!
To celebrate the launch of PerSKINality, AFGG is giving away a Rodan + Fields Collection recommended by your PerSKINality quiz.
To enter the giveaway:
1. Take the PerSKINality Quiz. Be sure to enter your email at the end of the quiz to receive your personalized results.
2. Share your PerSKINality results on Facebook by clicking on blue FB button at the end of the quiz.
3. Like AFGG on Facebook, if you aren't already a fan or you can subscribe to AFGG .
4. Leave a comment (here) telling us your PerSKINality!
The contest will begin on 10/16/12 and commence on /10/31/12. at 11:59 PM EST.  The winner will be chosen at random by Rodan + Fields. The winner has 48 hours to respond by email. If there is no response an alternate winner will be chosen. Only residents of the United States are eligible to enter and/or claim this prize. You must be 18 years or older to participate in the giveaway. The prize will be sent directly from the offices of the Rodan + Fields. Please be sure to provide a valid email address so we can contact you if you are the lucky winner. A Few Goody Gumdrops wishes to thank Rodan + Fields for this  for this SKINtastic giveaway!