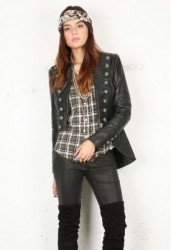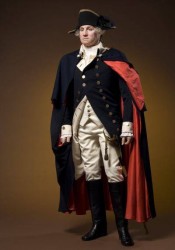 Every so often we've been known to pass on a great deal on a funky piece. We're doing that right now with muubaa's Revolutionary Jacket in black leather. We all know how huge the leather trend is this season. This jacket is so reasonably priced and perfect for someone who is trying to achieve "the leather jacket look" with affordability in mind.
"Muubaa's core strength is its lean, mean attention to detail and its adaptability". This jacket certainly has a lot of attention to detail as noted in the style, length and buttons. We guess you could say it has that George Washington flair minus the cape. Who knew our first PREZ was such a trend-setter… headpiece, high boots, buttons and all!
This jacket is fun and trendy and looks great paired with jeans or leggings. The entire collection is for the young and oh-so hip…which may exclude us! The jackets combines the look of high style with the  "lived in" worn leather look and will become your everyday go-to staple. "It adapts to the wearer's personality, style and surroundings". (quotes from muubaa)
The best is…are you ready….the jacket was $641 and is now $256.40. We call this a steal and a deal. Just like George…we're also loving the jacket with the tall boots. Be sure and check out Jeffrey Campbell's Wishlist Boot. Click the link to be in style with George and your fall uniform is well on it's way! Has any President ever inspired your style?