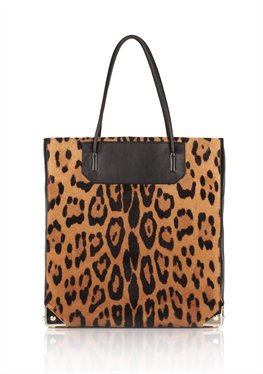 Another leopard bag….asks my husband. Are you opening a leopard shop??? Well…leopard's as cool as ever, dear hubby and I'm obsessed. Plus I love carrying an oversized tote rather than a traditional handbag. Wang's leopard tote achieves everything we love in a bag…size, shape, skin and design. The Prisma Leopard Print Haircalf Carry-all features black leather trim and sides, double handles and gold tone hardware accents. The tote is certainly big enough for everyday!
Honestly, the last few years Wang's bags have been too heavy for us to carry, many having tons of stud detailing on the bottom making their bags "weighty". That hasn't stopped us from wanting to own one. Every time we picked one up at our favorite chi chi department store there were arm and shoulder issues.
Between extreme platforms and heavy bags….what's a fashionista supposed to do? A dilemma!!! Thankfully, Wang's leopard tote works perfect for us! As we always say….never overdo too much of a look. If you are carrying a leopard tote ditch the leopard scarf and booties.Click the link to shop Alexander Wang! Now you understand why I need this bag…hubby?