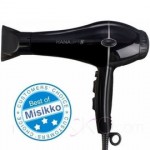 We recently ordered the  HANA air  Hair Dryer from Misikko.com. Much to our surprise this gorgeous black box arrived filled with so many amazing beauty products. We've never received such a gracious and handsomely decorated package from any online store. The box was neatly tied with purple and white ribbons and filled with a fabulous selection of goodies. It was so much fun opening all the little packages from  HANA and Misikko.
The HANA air Hair Dryer arrived with these amazing products:
Two large bottles of Paul Mitchell Original Shampoo and Conditioner.
A heart-shaped plastic box with purple rose shaped sachets.
A black leather bag filled with every makeup brush a fashionista could ever need.
A Mechanical Eyelash Curler.
A purple satin drawstring bag filled with nail files and two small bottles of Hand Sanitizer!
A white satin drawstring bag filled with HANA Shine Shield.
A sleeper for the hairdryer.
A white and purple satin eye mask for sleeping.
An adorable Teddy Bear with a white rose.
The products were incredible and ones that we could really use.
The HANA air is a premiere hair dryer.  The  Hana air hair dryer was easy to use, comfortable in our hand and dried our curly hair in a reasonable amount of time. We'd totally recommend the HANAair Professional Premiere Hair Dryer. It's easy to see why this is their Top Rated hair dryer. We're always searching for the perfect hair dryer along with the perfect "black dress". We're still searching for the dress but have definitely found the dryer! The HANA Salon Dryer has multi-level air and heat settings to provide you with the temperature you like. There's even a cool button to style and shine your hair. The HANAair Premiere Hair Dryer is perfect for us!
A Few Goody Gumdrops loves shopping Misikko.com for amazing hair products, the Best Flat Irons and Professional Hair Dryers. Misikko's service, presentation, and products exceeded all our expectations. They offer free returns, same day shipping, and beauty experts to assist with any of your questions. Misikko always offers specials that you're sure to love!