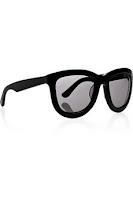 We love wearing  HUGE sunglasses for so many reasons:
1. They're in style!
2. They look great!
3. More eye and face protection from the sun and wind.
3. They HIDE the wrinkles we already have!!
5. They flatter your face.
The thick black curved frames are tinted with purple lenses for an ultra cool look. We must tell you…we own these trendy sunglasses and wear them everyday. Love the combo of the thick black frames with the purple lenses which are very becoming and brighten up your face. If the thick black frames are too edgy for you, then check out the more conservative light-tortoiseshell acetate sunglasses with tinted green lenses. Click the green links to indulge The Row! They are truly chic!