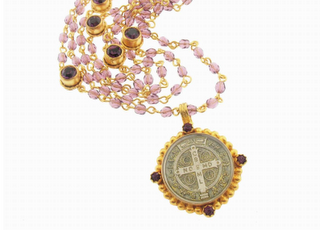 We are inviting our readers to participate in an amazing GIVEAWAY! We are so excited! One lucky reader will receive a to-die-for Virgins, Saints and Angels, San Benito Magdalena Necklace. This ever-so funky necklace features Swarovski crystal beads with amethyst stones.

Virgins, Saints and Angels is a religious inspired jewelry line using relics and religious symbols to create necklaces, rings, cuffs, earrings, lighters, money clips and belt buckles. Inspired by the 17th century Mexican town San Miguel de Allende, all Virgins, Saints and Angels pieces are hand crafted in Mexico and plated in silver or 18K gold. The pieces feature classic Gods, Goddesses, Gypsies, Angels, Hamsas, Hearts and their signature design the San Benito. Each collection carries a message derived from these icons with all of their power, protection and beauty.

Cheryl Finnegan started designing jewelry out of her home in Mexico and selling to local residents. Her passion for iconic females such as Eve, Frida Kahlo and the Virgin Guadalupe led her to create Virgins Saints & Angels, a line of accessories celebrating the goddesses who encourage enlightenment, expression and creativity. The line was a quick success and has grown at an unbelievable rate. Cheryl's designs can be seen on a number of celebs.
To enter to win this fabulous necklace, SUBSCRIBE to our RSS Feed and leave a comment on this post using the email address you used to subscribe . Tell us if you're a Virgin, Saint, Angel or all three! Contest is open to US residents only.
You must also sign up to follow VSA's twitter @VSA_Designs and tweet 'I want to win @VSA_Designs @goodygumdrops.' A Few Goody Gumdrops will choose the winner and VSA will send the necklace directly to you. The winner will be chosen at random on July 31, 2010. Keep your fingers crossed, you could be the lucky winner of one of the most exciting new necklaces of the season! A Few Goody Gumdrops wishes to thank Virgins, Saints and Angels for sponsoring this unbelievable Giveaway!