HANA ELITE FLAT IRON GIVEAWAY!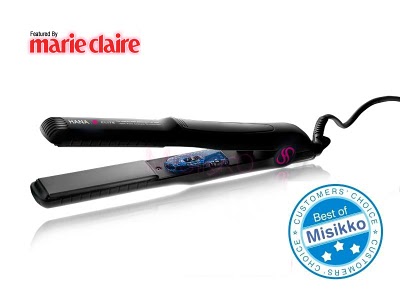 We are so excited about this amazing Giveaway! We've teamed up with Misikko.com to offer our readers a chance to win this fabulous Hana Elite Flat Iron. The Hana Elite Flat Iron is a 100% Ceramic and retails for $359.99.Ceramic is the only material that will generate results better than Titanium while also providing the highest level of hair damage protection. Hana focuses on bringing you the best luxury flat irons!
The Hana Elite Flat Iron is 100% true, solid ceramic. This means it will never peel or chip to expose hair to damaging metal – it also means Hana can include large ceramic heaters that cover the entire plates for the best possible heat distribution and retention. As the pros know, the secret to ceramic hair straightening is in the ceramic technology itself – and Hana continues to bring you the best flat iron money can buy. Ceramic is naturally hygienic, protects color & retards fading.
The Hana Elite features:
Unique black ceramic plates won't discolor with use of products or hair dyes
Adjustable Temperature Dial – 5 Settings from 140-450° F for All Hair Types
Safe to use on Damp to Dry Hair
Beveled Edges mean Easy Curled, Flipped, Spiked or Straight Styles
Ergonomic Handle Design with No-Slip Grip
Smooth Grooves Keep Hair Strands Separate and Snag-Free
Sleek luxury matte finish
Tangle-Free Salon Quality Cord Swivels
Shop Misikko.com for the best flat irons, hair straighteners & professional salon styling tools & get FREE Shipping on any order of $50. Misikko chooses absolutely the best hair straighteners, curlers, dryers & beauty tools in the industry to keep you looking and feeling fabulous. Misikko also carries a great selection of Chi Flatirons. and FHI Flat Irons. And with Free Same Day Shipping, you don't have to wait to get a great deal!

To enter to win this fantastic Flat Iron, Subscribe to A Few Goody Gumdrops by Email and leave a comment on this post using the email address you used to subscribe. Tell us why you want to win the Hana Elite! The winner will be chosen at random on March 22, 2010 and is open to US resident only. A Few Goody Gumdrops will pick the winner and Misikko will send the Hana Elite Flat Iron directly to you! Good luck and here's to "straighter hair"! Remember to Shop Misikko.com for your flat irons, hair straighteners & professional salon styling tools & get FREE Shipping on any order of $50. A Few Goody Gumdrops wishes to thank Misikko.com for sponsoring this "ELITE" GIVEAWAY!