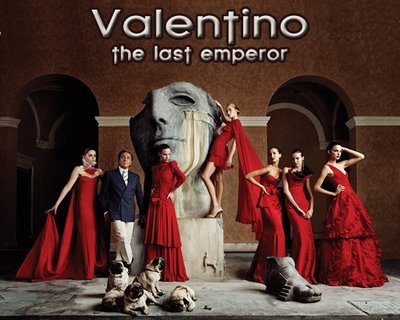 Last night in Boston A Few Goody Gumdrops attended the opening of the film:Valentino the last emperor. This was truly a very special premier as we met the director and producer of the film, Matt Tyrnauer.We LOVED the film! It was beyond our expectations.It was amazing and the audience was dazzled!

After watching this captivating film, Tyrnauer followed up with a question and answer session.He began by telling us that Valentino told him,"Women want to be beautiful and that is what I do." Tyrnauer was dynamic, funny and candidly honest. He entertained us with some great behind the scenes anecdotes. After all, the film took two and half years to shoot! Matt worked for Vanity Fair in the Conde Nest Building in New York and decided to do an independent film documentary about fashion and the fashion icon Valentino. Matt opened in Boston last night to rave reviews and a very enthusiastic audience. The ninety six minute film was shortened considerably from the rough cut of seven hours.
The film is about the relationship between Valentino and his long time friend/business partner Giancarlo. Watching the film, we met Valentino's seamstresses who stitch every couture piece by hand. Matt was completely mesmerized watching the seamstresses detailed work for hours.He stated that he has such great respect for them and their craft. He felt that the head seamstress was a master herself. Many of these seamstresses and their daughters have worked for Valentino for forty five years.

When they

retire Valentino presents them with a silver frame with a picture of himself

!
Although Matt was thrilled with his documentary, when he first showed it to Valentino and Giancarlo, they were devastated and in tears.They were not tears of joy; they simply hated the film. Eventually, the film premiered at the

Venice Film Festival

with sixteen hundred people to a standing ovation. Valentino and Giancarlo now loved the film!
This film is a must-see for every FASHIONISTA.

You will be totally engaged from beginning to end.The couture pieces will intrigue you as well. They are gorgeous,timelessly classic and so chic.

One can see why Valentino is a true fashion icon.

We
can not give you any more details about the
film….go see it!
"A must-see for fashion lovers and pop-culture alike"-The New York Times
"Fused with wit and self-deprecating humor"-Andre Leon Talley, VOGUE
"Pure movie magic"-The New York Post