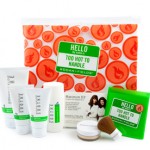 MJ from Pea Ridge, Arkansas is the lucky winner of the Rodan + Fields Skin Care Giveaway. MJ took the PerSKINality quiz. Her skin type is Too Hot to Handle. We know MJ will love using these fabulous products from Rodan + Fields that are geared for her particular skin type.
MJ commented, "OMG!! Thank you sooo much! I haven't had a complete skin care system in forever- I really really need this."
You can still take the quiz…. it's called PerSKINality! This skincare advice assessment quiz was created by Stanford-trained dermatologists, Dr's. Katie Rodan and Kathy Fields, to help you to understand your skin and find the PerSKINality skincare collection that is right for YOU. Take PerSKINality for a spin and find out if you are Lucky and Lovely, Too Hot to Handle, Expressionist, Heart on My Sleeve, Sunny Side up or Carpe Diem. You'll be surprised by the results!
This kit includes our 4-product SOOTHE Regimen (Gentle Cream Wash 125 ml/4.2 fl. oz., Sensitive Skin Treatment 50 ml/1.7 fl. oz., Moisture Replenishing Cream 50 ml/1.7 fl oz., Mineral Sunscreen SPF 30 50 ml/1.7 fl. oz.), ENHANCEMENTS Mineral Peptides SPF 20 in Medium 4 g/.14 oz., mini Kabuki brush, ESSENTIALS Maximum D3® Vitamin D3 Supplement (5 once-weekly doses) and a flip mirror, all packaged in a re-sealable bag. Valued at $218, this limited-edition kit is available only while supplies last. The retail value of the giveaway is between $189 and $334 USD. AFGG wishes to thank Rodan + Fields for this SKINTASTIC giveaway!