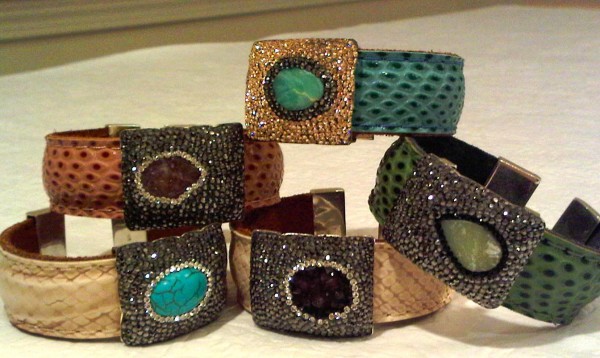 We love collecting fabulous one-of-a kind bracelets.
That's why we've already started to collect these stunning cuffs carried by Lori S Designs.These eye-catching cuffs are made of embossed leather, sterling silver and Druzy stones encrusted with Swarovski crystals. Each piece is handcrafted with tremendous attention to detail.No two bracelets are alike. The Druzy stones are hand-cut quartz crystals that form on the inside or on top of other stones such as amethyst, citrine and opal as seen in these timelessly chic cuffs.These bracelets are sure to add "coolness" to any outfit.

These decorative cuffs come in two styles. Both styles are adjustable to fit your wrist. The cuff with the two center stones features it's opening in the middle of the stones.(depending on the size of your wrist, there will be an opening between the stones) The cuff with the single stone, features it's opening in the back and expands as a normal cuff does. These stones and crystals evoke a glimmering brilliance under the light! The exciting fashion accessories can be ordered from
Lori's Facebook page.
The single stone cuff retails for $270 and the double stone cuff retails for $300. Lori is featuring a special for our readers. Just enter the code
GUMDROPS
when ordering and Lori will happily take ten percent off the retail price. To view Lori's designs and her personal collection click the purple link to indulge!