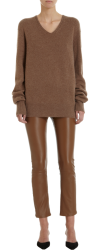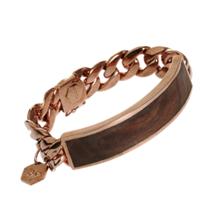 Being an avid "Row" wearer we're so excited about the Ellerton leggings. We're loving the luscious saddle color and their latest feature…the "much needed" side zipper. Finally!!! Over the past few years, the zipper has been lacking from their leather leggings making them difficult to wear.The leggings (although very cool) would stretch around the waist and constantly had to be pulled up.We're so glad this has recently been addressed. (maybe our emails worked!)
Leather leggings are timeless especially in this gorgeous neutral.There are many leather leggings out there and we know these are beyond pricey…however The Row definitely sets themselves apart from all other leggings.Their styling, durability and craftsmanship are top quality.
These leggings also feature a stylish side zipper on the ankle.The Row's stretch lambskin leather leggings combine comfort, sophistication and attention to detail.The leggings can be dressed up or down and worn daytime or evening.We'd pair these leggings with the matching Row sweater as seen above, a silk shirt, a blazer and so much more. Grab a fabulous Ann Dexter Jones bracelet….specifically the Rose gold sterling silver ID bracelet with the wood ID plate. How cool is this combination???? Be sure to click the link to indulge and view The Row's Collection and Ann Dexter Jones stunning pieces!