Pin It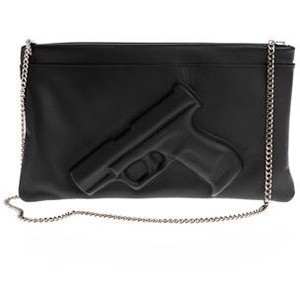 We've found the perfect "gangsta-chic" bag to carry on your next flight! How fast do you think you'd get stopped with this???  Maybe you're "gunning" for a dangerously styled clutch. We're sure Vlieger Vandam's "statement" bag will definitely appeal to some especially those who want to say "eff " off to the airlines.
If you're edgy with a rebellious streak…this is obviously the perfect clutch for you. The bag features an interior zip pocket, a zip closure, a silver tone chain strap and is fully loaded! (oops…I meant  "fully lined") Carry as a clutch or wear stylishly on your shoulder…if you dare!
We've seen so many bags over the years….some very cool and some plain ridiculous. Vandam's Gun-Embossed Clutch falls into the bizarre and ridiculous category. But who are we to judge? If you want to tote a gun clutch but not a real gun this bag is for you! Click the link to indulge. No bullets allowed! The clutch is also available in an embossed knife design or handcuff version. Oh-so gangsta lifestyle!