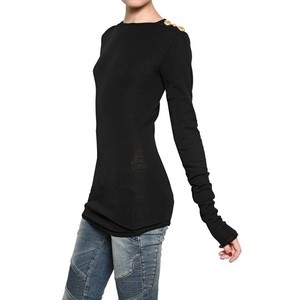 We're absolutely loving Balmain's light weight black sweater which exudes designer luxury with casual elegance. Actually there isn't much from Balmain we don't love except the prices although that has never stopped us before! Balmain's black long sleeve sweater with the gold button accents is fabulous with so many wearable options. We continue to recommend layering as a great option as the fall season gets chillier. Balmain's light weight wool sweater is the perfect layering piece especially under Balmain's Silk Satin Trim Velvet Jacket. It's a "me" sweater and look!
We'd pair this sweater with jeans (Balmain, of course) or Gareth Pugh's Nappa Leather Leggings, leather skirts and more. (remember we told you in July how big leather was….we were right on!) The length of the top makes it a favorite night after night. It's not a "head turner" just one of those stylish staples that you're always pulling out of your closet and it looks great every time you wear it.
We love everyday tops that are simple without a lot of "stuff" on them. A Balmain black long sleeve top is a timeless piece to be worn for seasons or years to come. This one hugs the body in all the right places.
Almost anything works with jeans or leather leggings….why not own ONE sexy Balmain top that looks sensational rather than a cheapy top that looks okay. Click the link to indulge. Be sure to check out Balmain's ever-so cool and edgy Stretch Cotton Denim Biker Jeans. They look amazing with the sweater featured above.