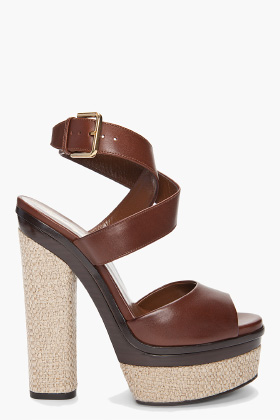 Thought I'd write about a shoe that I don't really like, at all. It's a textured leather heel in biege with a contrasting dark brown sandal.The shoe is also priced at $1095.00. Any guesses as to the designer?
The Flirty Platform Heels are by Yves Saint Laurent.I find this shoe very heavy looking for summer and it's hardly flirty looking.There's too much heel, too much platform and the the thick ankle straps make this shoe unappealing. Are you ready for this? The platform is approx. 2″ and the heel is 6.25″. This ginormous heel may make you a little too tall…nothing "short" of an Amazon! Personally, I couldn't walk in heels this high.In my younger days four inches was plenty.The sandal features a gold tone buckle at the ankle and a gold tone logo at the textured woven heel.
I'm more comfortable in an espadrille or a pair of sneakers for the summer. If I were going to wear a platform I'd wear a more streamlined and sexy looking sandal, definitely one that had a more feminine touch. Honestly, I can't find anything favorable to say about these shoes. Can you? They're just so thick.The heel remind me of my old math teacher's legs. (yuck) If you love these YSL shoes then by all means…click the link to indulge! I'd pair with a maxi dress so you don't see this clunkers! Proenza Schouler's Long Tiered Silk Dress in the floral pattern is the perfect combo.