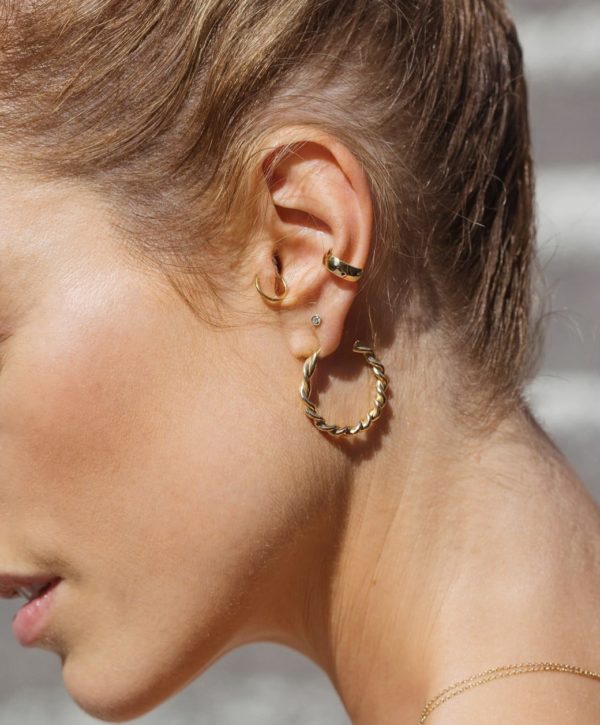 Jewelry has always been a passion of mine.
Fortunately for me I found a new look in hoops. There are so many handcrafted pieces to choose from. I found a twist pair of stunning yellow gold hoops. They're intertwined with two gold hoops and coated in 14K gold vermeil to design these very cool earrings. Always makes me feel better to know the jewelry I'm buying is sustainable, ethically sourced jewelry and Kimberly certified.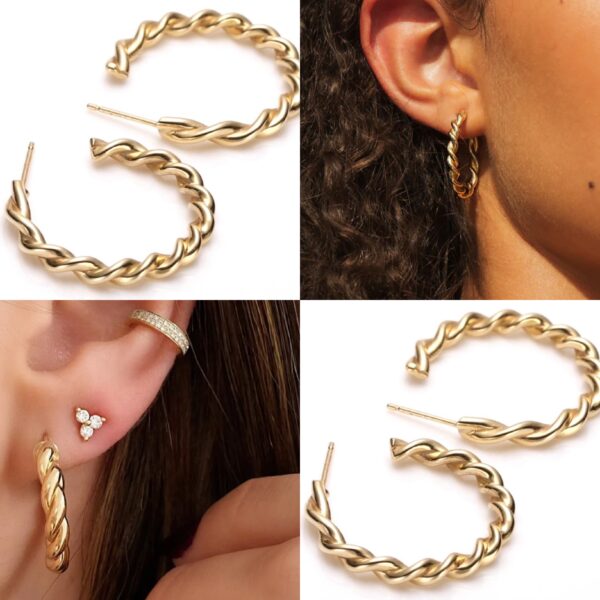 The traditional gold hoop has stepped it up considerably with the perfect size twist gold hoop earrings. I wanted something simple with a drop of pizzazz to it. The eye catching twist style does exactly that. I'm not into wearing glitzy or glam jewelry. I wanted a pair of earrings that reflected my casual life style that I could wear everyday.
My prerequisite was they had to pair with almost anything in my wardrobe from jeans and a tee to a blazer and leggings or trouser pants. The best is I can wear it my way and so can you! 
I had trouble deciding on the vermeil yellow gold, white gold or rose gold. Once I held the yellow gold earrings up to my neck I knew they went best with my complexion. One of the things I loved about these hoops was they came in three different colors of gold vermeil so I had choices. Choices are always the best!
When my hubby (another passion of mine) and I go out to dinner I usually wear my favorite faux suede leggings, a cozy cashmere sweater or an edgy blazer, sneakers, and my new pair of gold twist hoops. Nothing to fancy but they have a kick to them. I'm also drawn to rose gold. I like having a pair of rose gold hoops on hand incase I want to "twist" it up. I love having choices and I'm lusting over a pair of David Yurman silver cable hoops that I'm hoping to put in my jewelry box. Just saying!
The twist gold hoops offer so much in an earring. You definitely deserve a pair of hoops! What's your favorite style hoops? What's your favorite color gold?  Do your prefer the signature gold hoops or the more intricate twist hoops? Do you prefer hoops with bling? Your thoughts?
XOXO,