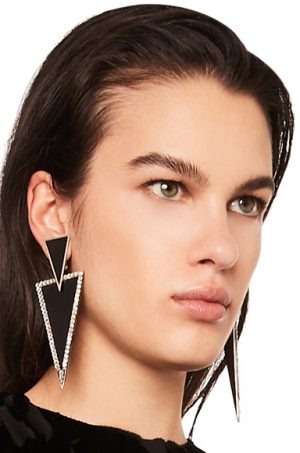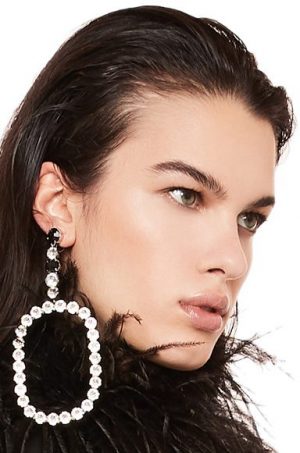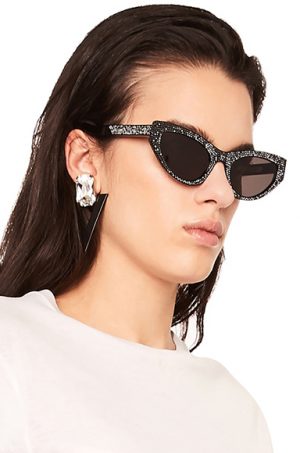 Do you want to add instant glamour to whatever you're wearing? Whether you're leaving in a SAINT LAURENT's Ostrich Feather Matte Satin Dress or your favorite Moussy jeans, Saint Laurent has the accessories that make a fashion statement.
Start with the Saint Laurent Grace Sunglasses in black. The cat-eye acetate frame is black and set with tiny rhinestones. You'll feel like a celebrity behind the smoky dark lenses that offer complete UV protection. Not your typical run-of-the-mill sunglasses.  Any reason they need to be? Sunglasses are one of the accessories that you can dare to be different.
Whether the sun is out or not, Saint Laurent's Triangle Drop Earrings offer two palladium plated brass triangles outlined in sparkling stones. Long earrings elongate and slim our face by starting just below the cheekbones and narrowing as they near your collarbone.
If those don't have enough sparkle, the Palladium, Black and Crystal Triangle Earrings offer endless shimmer. Wear them even if your ears aren't pierced since they have a clip-on backing. For a slightly more casual look, The Rectangle and Triangle Drop Earrings pair with any outfit, any occasion, any face shape.
What shoes, you may ask? Saint Laurent's Tower Crystal Embellished Satin Ankle Strap Sandals come with a leather sole and black satin upper. Crystal accents start at your arch, then wrap around and around your ankle before they reach the buckle closure. Click the purple links to indulge! So many fabulous choices to live stylishly!