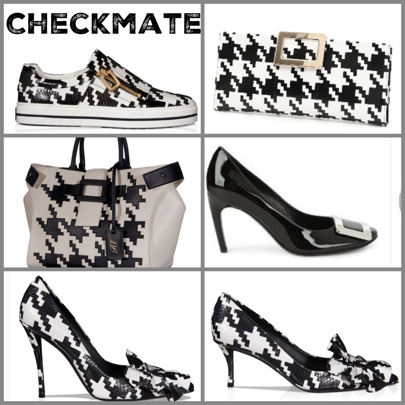 I've always been a huge checkered (houndstooth) fan, and now as luck would have it this cool pattern is back! It's in style and oh-so-fashionable on this season's trending shoes and bags. Black and white patterned pieces are here from one of my favorite tres-chic designers; Roger Vivier. (You may remember when the boutique opened on Madison Ave…I ran to get the gold d'Orsay flats with the matching logo-buckle) I've been obsessed with RV for years especially this season's shearling zip-low sneakers (black and white sneaks only available on Instagram) and the tweed leather clutch, both with the iconic pilgrim-style buckle. All of Vivier's checkered pieces pair perfectly with all black, (a staple look for many years by yours truly) black and white or all white. Whatever combo you choose will look GORG with RV's collection of accessories.
The chunky heel (very in style) houndstooth pattern is available right here. (Click this purple link to indulge) If  you've been oogling the RV small shoulder bag with the adjustable leather strap and the high heels with the frilly embossed leather design…click this purple link to indulge!
Of course, the traditional all black pump with the signature logo buckle is a favorite among celebs and "me." The "traditional" style also comes in a variety of colors and heel heights. You must know by now and afters years of blogging…I'm not a matchy-matchy dresser. Therefore I would wear never commit the cardinal sin of wearing the checkered bag with the checkered shoes. (gagging) I'd wear the RV plain black pumps with the houndstooth bag or visa-versa. Two matchy pieces look like you've scored them on sale!
If you've been oohing and ahhing, Vivier's black and white check pieces. If they're for you, click the purple links or the actual images to indulge. On AFGG you'll always find "This Season's Coveted Fashion Goodies". BTW…The black Pilgrim De Jour Pebbled Leather Bag is a must-have for those who want a simple (patternless) bag. Please visit our Instagram page for more of the collection.