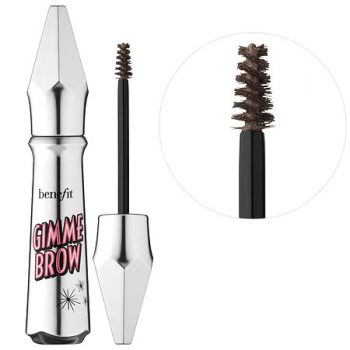 I've tried every brow product on the market to give my eyebrows that fuller more even look. I've been reluctant to do the Mircoblading procedure which is basically giving you permanent eyebrows. (many of the brows I've seen look fake, too dark with an extreme shape) While on a recent trip to NYC I had my eyebrows tinted and reshaped. They looked amazing if I do say so myself. Then I purchased Benefit's Gimme Brow Volumizing Fiber Gel. Gimme Brow with it'a brush-on-gel complete with tiny microfibers was applied to my brows, giving my brows that fuller "real eyebrow" look. I looked like I had my natural-looking fuller brows back! Of course, I bought the product Gimme Brow and have been using it every day with amazing success redefining my brows.
The first step was to tint my eyebrows with a slightly darker color than normal, then they were shaped just a bit and then I applied the water resistant, long lasting formula Gimme Brow. You apply by taking the little brush thru the hairs going from right to left across the brow then going back left to right. The result is pretty darn good. My brows were a real work in progress but emerged looking better than they had in years. Gimme Brow is an "Award-Winning, brow-volumizing fiber gel that mimics the look of real hair for fuller-looking brows". This was definitely a quick fix for my sparse uneven eyebrows. The result has been incredible although it's not a permanent solution (wish it were) just a daily fix that I'm loving and will continue to use (Gimmie Brow Volumizing Fiber Gel) until I really need microblading.
Of course, I bought Benefit's Gimme Brow and have been using it every day with great success. It comes in three perfect shades. Are you ready to own? Click the purple links to indulge. You'll be thrilled you did.  At least I hope you'll be as thrilled as I am with this "hair-raising" product. Benefit's collection is geared towards correcting….so you're sure to find a product just for your needs.