If you follow A Few Goody Gumdrops then you must know I'm totally obsessed with leopard! You may remember this older photo of my leopard Louboutins and watering can. So, I'm sure you get the picture of my love of leopard! I even have a leopard rug in my family room, not to mention leopard pillows throughout my house and leopard sunglasses! #lovemyleopard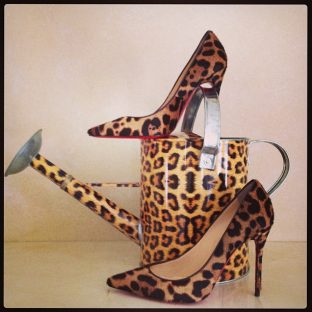 Which brings me to this fabulous leopard print cape from Vis A Vis. The cape is totally fly, (no pun intended) and I can't wait to purchase. Capes are one of the most flattering styles (Hides the butt and the tummy). Vis A Vis' leopard cape is sure to compliment any pair of jeans or leggings in your closet. So much more exciting than a typical boring black or navy raincoat….unless you're really into playing it safe. 
The coat features a zipper and snap front closure (You can use either or both), a stand-up collar with a zip off hood (Love a hood on a coat), front zip pockets and a drawstring hem. Looks just as cool from back! The perfect piece for cool weather or rain. Obviously, your arms are bare but if you hit a chilly patch of weather, add a long sleeve shirt or cashmere sweater. The cape is lined with a funky camouflage-print chevron pattern.
Are you ready to indulge in this standout piece for spring? Works amazing with bronze touches of Lipstick Queen's Queen Bee bronze lipstick and Claudio Riaz Instant Bronze Shadow. (Can be worn wet or dry) The perfect staples (Cape and Makeup) for spring and summer. Great coat for travel, too! If leopard is your thing, then click the image or the orange links to indulge. Bring out your animal instinct in this fab cape.