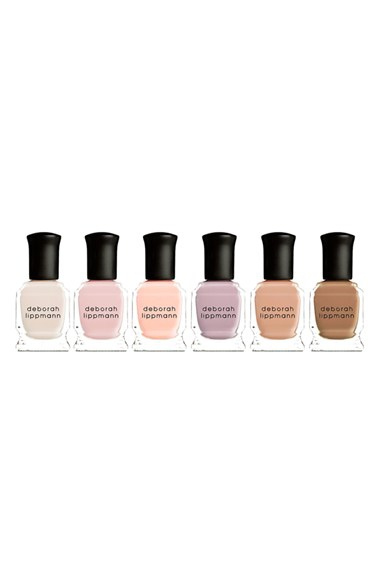 I've been using Deborah Lippmann's polishes for years, and they're by far the best. You may remember we did a giveaway with Lippmann way back when. The shades are always gorgeous, and the polishes look so fresh and clean on your nails. I love my nails short-short and rounded, (plain and simple) so they really look great with her subtle polishes. The name of this set is called Undressed. They're soft neutrals and look great with any skin tone. (I think nudes/neutral polishes always have the chicest look) You can give the whole set as a gift or divide them up as individual stocking stuffers. Either way, someone will be getting some great polishes.
The creamy shades are so soft and can be worn each season, or you can choose specific colors for each season. These stunning shades include Flesh for Fantasy (alabaster nude), Totally Nude (fair pink nude), Born This Way (peach nude), Bare It All (mauve nude), Natural Woman (almond nude), and Skin Deep (sable nude).
Lippmann shares how to apply and it's so easy: Apply a thin layer of the base coat of choice over clean nails before putting on color. Apply two thin coats of nail color, waiting two minutes for each coat to dry. Finish with a thin layer of top coat. There you have the perfect manicure with the perfect polish. Don't forget to polish your toes. The set is valued at $72 dollars but the selling price is $34! How amazing is that and right before the holiday! Click the polishes or the purple links to shop!
XOXO,