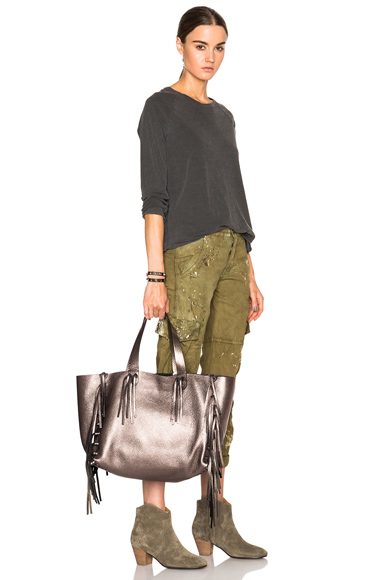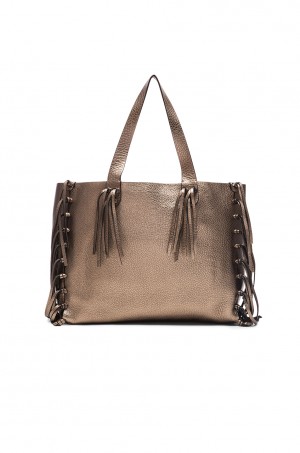 Valentino's Tote with the knotted fringe and glam metallic pebbled leather is "all that and more" especially in person! We love carrying totes because you can put so much in them, and they still look great. The C-Rockee bag although roomy on the inside is just as fab on the outside with the "of the moment" fringe detailing and soft leather. (Fringe is in, and then it's out and then it's back in, etc…) What I love about Valentino's daytime carryall is it doesn't scream Valentino. It pared down without hardware and the signature rockstuds.
I hemmed and hawed over this bag last year, and now I'm obsessed. I carry so much and have no clue why but I've come to rely on the ease and functionality of a tote. A "designer" daytime carryall is the perfect everyday bag. The color of Valentino's C-Rockee is gorgeous and neutral enough to wear with so much in your wardrobe.The bag (so versatile) can be used for bringing work to the office, NYFW, shopping, running errands and yet has a high fashion look.
Like any Valentino, it carries a hefty price tag but if you're trusting us…it's well worth it. Click the purple links or the actual images to indulge Valentino's C-Rockee Metallic Fringed Leather Tote.The bag is unlined and features and an open top, (hate a top zipper) two inside zip pockets, and two inside open pockets. The bag is also available in classic black pebbled leather or light cuir. (Not everyone wants metallic!) Enjoy more shopping on our instagram: #afewgoodygumdrops.