My mantra….the more the merrier especially when it comes to jewelry. (definitely not pounds!!!! ) That's why I love wearing stacks of beaded bracelets on my wrist. Beaded bracelets are the best wardrobe staples. They're easy to wear and totally cool. You can never get "too wristy" with a stunning stack of beaded bracelets. You can wear two, three, or four. For an even trendier take wear six, seven or more! It's the perfect way to accessorize, and you can build your collection as quickly as you'd like.
MIX & MATCH ERIMISH BRACELETS
I'm totally obsessed with Erimish Bracelets' Spring Stack with its cool selection of white beads composed of howlite, Czech crystal, synthetic faceted opalite and vermeil plated sterling silver. I live in the Northeast, and I'm so over winter….my head and wrists are already into spring. While I love all the beaded selections of Erimish bracelets…. the soft color palette new for Spring has me in awe. The best is these Erimish bracelets can be worn casually to the gym, out to lunch, dinner, theater and more! (you don't need a special occasion to wear them) Whether wearing a stack of neutrals, earth tones, shimmering stones, metallics, brights or pastels, they're cool outfit makers. They're sure to compliment any outfit and can be paired easily with other bracelets you currently own. They're meant to be playful, easy to wear and stackable. Just pile them on. Have fun mixing and matching colors, beads and stacks. They simply make fashion fun!
Two successful sisters are behind this totally awesome line of Erimish bracelets. They currently own Coco's Boutique in Joplin, Missouri. Their concept was to make fashion fun by creating a "bracelet bar" in specialty boutiques allowing customers to purchase pre-stacked color stories, individual strands or to create their own stackable masterpiece. You never know who you'll meet at the bracelet bar!
Erimish bracelets recently launched an adorable kids line. You know what this means….your budding fashionista doesn't have to wear your beaded bracelets. They can have their own stacks and begin their collection. The bracelets are reasonably priced and make the perfect birthday, mother's day, anniversary gift or gift to yourself. These must-have bracelets are a beautiful blend of natural stones, Czech crystals and gold filled pieces.
Are you ready to start your stack of arm candy? Whether you're trendy, preppy, classic or edgy…there's a stack of stylish Erimish bracelets waiting for you. Click the pink links to indulge. You'll be so glad you did. Be sure to follow Erimish on Facebook and Instagram.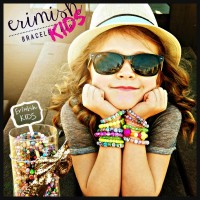 Like this Erimish Bracelets feature? Click here now to check all the latest Fashion Jewelry content!
XOXO,