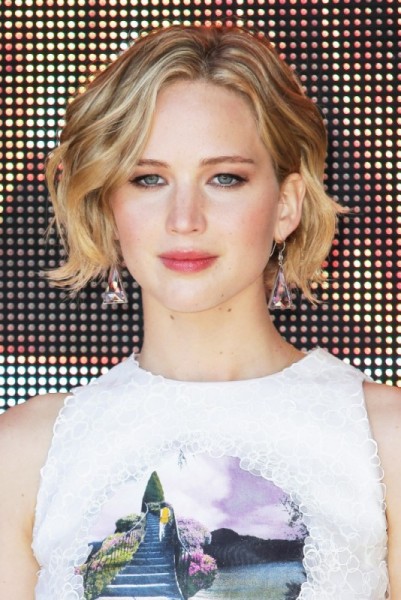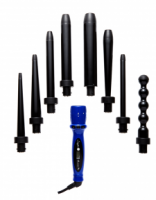 I've probably just come across the best-kept secret in the world of curling irons. The Irresistible Me Sapphire 8 in 1 Complete Curling Iron is about the best I've ever used. I recently bought three curling irons…none of them doing the trick. My hair looked worse…either too curly or too straight. My desired look was the latest hair trend…the loose beachy waves as seen above on Jennifer Lawrence. (I wouldn't mind looking like her, either) This hot new iron (no pun intended) arrived at my door yesterday in gorgeous packaging with a leather fold-over bag. The Irresistible Me Sapphire 8 in 1 Complete Curling Wand comes with eight varying sized attachments to interchange with the bright blue handle and a glove to protect me from burning myself.
It took me a little while to figure out how to turn the iron on. It wasn't difficult except there were three buttons, and the directions weren't clear as to what button did what. I'm sure if I was 20 years younger this wouldn't have been the least bit confusing. Attaching the wand to the iron was a breeze. I initially used a wand that was too small, and I didn't love the tight waves it made. Remember, I was going for those loose beach waves. There were seven other wands to choose from to get your desired look. The Irresistible Me Sapphire Curling Iron is incredible as most irons come with the one wand that's attached to the iron. I found the perfect size (25mm) wand and had no problem curling/styling my hair and achieving that loose wavy look. I've even learned which sections of my hair to use with the correct wand size. I can go for an everyday casual look to a sophisticated, glamorous look in minutes. Yes, I admit this did take practice. (I'm not a pro yet)
It was really exciting creating the vision (of my hairstyle) that I had in mind. I'm truly excited with my new curling iron. This curling iron was graciously sent to me by the company. All opinions expressed here are all mine…can't ya tell! Click the bright blue link to indulge!
XOXO,