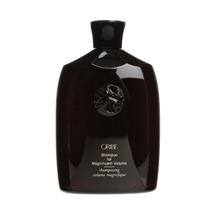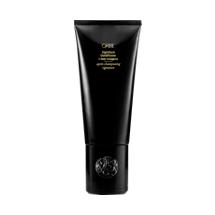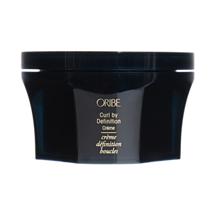 Many of us can not afford the 800 dollar haircut that celebrity hairstylist Oribe is so famous for. He's known for creating some of the most fashion-forward hairstyles. I'm sure we can all find more useful ways to blow eight hundred dollars. (did I mention how hard it is to get an appointment with him???) While Oribe's costly haircuts maybe out of whack, his fabulous luxury haircare products are in the "affordable" range. If you can't get the pricey cut with the-stylist-to-the-stars you can get the products which truly help your locks. (although I'm a sucker for trying famous hair-stylists….I totally draw the line at eight hundred smackers) If Oribe is by chance reading this…I'd be happy to accept a choppy layered haircut for a review on AFGG.
I can personally attest to the perfection of these products featured on this post. If you're ready to use a great shampoo, daily conditioner and a product to curl your hair…it's time to click the purple links to indulge Oribe's haircare products…Shampoo for Magnificent Volume, Curl by Definition, and Signature Conditioner, a daily indulgence your hair will love. Here's the low down on the products.
"Shampoo-Because everyone needs a little largesse. Body-building polymers wash in truly uplifting volume and thickness, while rare botanical extracts leave hair full, lush, strong and easy to love".
"Conditioner…Oribe spared nothing in crafting this restorative daily moisturizer. Hydrating polymers revive youthful shine for lustrous, healthy locks and detangle for ease of combing throughout the day. Conditioner just got luxurious".
"Curl-Soft, sexy, youthful curls don't always come naturally. This elegant activator adds amazing texture and definition, with shine-boosting, frizz-eliminating, crunch-free satin hold that enhances your sultriest asset". My hair is proof that these products work. Don't take my word for it….try these unique formulas and see for yourself.
XOXO,