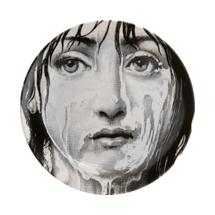 Whimsical or Weird? Beauty and Art are in the eye of the beholder. Fornasetti is definitely offbeat but there's something uniquely intriguing about his designs. I have Fornsetti pieces all over my home. They're eye catching accessories even if the motif does shock people. My friends have asked me, "Why would you buy a plate with a design like that? I guess I'm drawn to the subject.
The pieces were originally designed by Piero Fornasetti who was an artist, sculptor and painter. Many of the items he created featured the face of opera star Lina Cavelieri. He found her face in a 19th century magazine. Many of the plates depicting her face are totally unflattering! (she must have been a great sport)
"What inspired me to create more than 500 variations on the face of a woman?" asks Italian designer, Piero Fornasetti of himself. "I don't know," he admits, "I began to make them and I never stopped." The company is now under the direction of his son Barnaba who has maintained and expanded his father's line of whimsical motifs. Be sure to check out the collection. I feel the same...I started to buy these pieces and couldn't stop! Click the link to indulge Fornasetti's luxury home accessories.