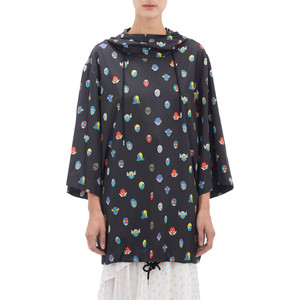 A windbreaker is the one accessory in your wardrobe that's meant to be fun. Stella McCartney's Superhero Pullover Windbreaker is definitely that whimsical piece. It's from McCartney's Pre-Spring 2015 Collection. In our book it's an adorable must-have. This is the piece we all need but never own. How many times do you wish you had a windbreaker with you? Makes a good stocking stuffer, too!
Stella's oversize black and multicolored "Superhero" print-tech taffeta windbreaker is the perfect length, size and weight. Stella's of-the-moment "superhero" design features a hood, funnel collar with drawstring, wide three-quarter-length sleeves and a drawstring hem. So many pullovers are lacking hoods which makes this an even more important and functional piece to own. Even rain coats don't come with the "essential" hood. You'll own this windbreaker forever.
Stella's playful windbreaker looks great with so much in your wardrobe. The best is…it's so easy to pack and you can definitely throw in your handbag-tote on day trps. It makes an effortless outfit with jeans, leggings, colored jeans and skirts. Click the purple link to indulge. When the wind is blowing and it's drizzling…you'll be so happy you have this. No doubt about it…we've got your back covered!  Shop all your goodies right here! 
XOXO,