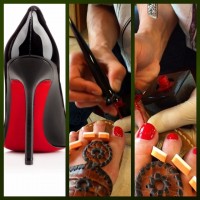 You'd think if you spent fifty dollars on a bottle of nail polish it would practically give you a manicure! In hindsight…a ridiculous craving. For me Louboutin's exciting new signature polish… Rouge Louboutin was a must-have and with good reason…the color red matches the soles of Mr. Louboutin's iconic red heels, flats and booties. Who wouldn't want to be in on the big hype? Having your nails match the soles of your shoes is probably more than you can ask for in a nail polish. After all…the polish is "designed" by the infamous Christian Louboutin. To make matters "worse" Rouge Louboutin had to be pre-ordered and took 5 weeks to arrive.
The color match is pretty good but there are red polishes from other nail companies that match very closely. I've had the polish on for two days…and the "chip resistant" polish mirrors the soles of my Louboutin pumps after one wearing…cracked, chipped and somewhat destroyed. Although I can touch up my nails…should I have to after just two days of wearing this amazing polish? They boast "two coats of Rouge Louboutin Nail Colour is like wearing 25 coats from any other polish". Hmmmm….not exactly. What makes this polish shiny was some random top coat.
What do I really think???? Mr. Louboutin…you should stick to designing shoes and handbags. In my opinion…this polish is all hype and not worth $50. My manicurist complained the bottle was awkward to hold and the specially designed brush hard to use. Yes, I got taken and you can, too!!! Personally, I'd stick with your favorite red polishes. If you must click the link to indulge.