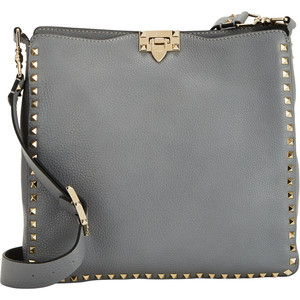 Valentino is making me nuts!!!! Every time I think my "bag-mind" is made up…Valentino features another one that I'm more obsessed with. I LOVE this bag…shape, size, leather, style, color and signature Rockstuds. Valentino's grey grained-leather messenger bag with the golden pyramid signature Rockstud detailing at the seams and straps is definitely for me. #want #need #musthave  #readyforfall #obsessed. In other words……I'm "surrendering to temptation" (again).
Grey is the perfect neutral and works with so much in my (or your) wardrobe. I wear a ton of black and grey is the perfect neutral to compliment my very boring black wardrobe. Valentino has been a top-trend look in bags and shoes (in my book) the last few years. I'm still wearing my Valentino must-have dark tan (with the light pink trim) Rockstud heels wherever I go. Valentino can do no wrong! 
The Valentino messenger bag is easy to wear…just throw it on effortlessly with the adjustable flat leather crossbody strap and leave the house. How fab is this bag to wear???? It's edgy, cool and ultra versatile… wear with jeans, nice trousers, an out-to-dinner dress and more. We think it's worth the SPLURGE! Click the purple link to indulge. Can't you just picture how cool this bag will look with a cashmere sweater, fitted jeans and a pair of Valentino boots. The bag is also available in brown and tan.