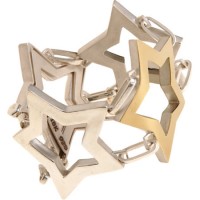 Put the internet down for a second and glance through your jewelry collection. You must have at least one piece-some stand out bracelet, necklace, or pair of earrings – that makes you… • Smile a little inside; • Feel slightly better about the world; • Feel more positive, more exuberant in a way that you can barely articulate. Few pieces of jewelry connect with us emotionally like that. So when one comes along, it's time to pay attention…
Enter this Ann Dexter-Jones sterling silver and gold star bracelet.
It features an 18-karat yellow-gold overlay and a simple, timeless aesthetic. The bracelet measures in just 8-inches in length and 50 millimeters in width; and the design is almost childishly simple. Four stars comprise the design-including one gold star (you see it if you look closely!) This bracelet offers a cool diversity. A young club-goer or raver could wear this with some crazy club-going outfit and fit in. But a 40-something professional would also look dazzling and daring wearing this on her wrist. It will add an irresistible sense of "coolness" to any outfit you wear.It's sensible yet curious; you get compliments but no looks of askance.
Star Struck… But Subtly
So whether you're planning a killer night out with your hubby, new beau; putting on the nines for a snazzy corporate event; or piecing together an outfit to impress your ex-boyfriend (who happens to be newly single, thank you, Facebook!) at your upcoming high school reunion, you could do far worse than this glimmering, scintillating silver and gold star bracelet. Click the link to indulge this amazing bracelet. We hear that Betsy has been dropping hints to her hubby about this piece for her birthday gift! We know Betsy also loves ADJ signature ID bracelets!
(This post is a reprint from May 2012…some posts just never change!!!!!!!)