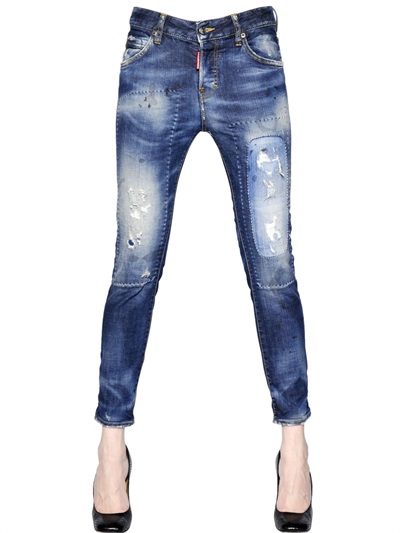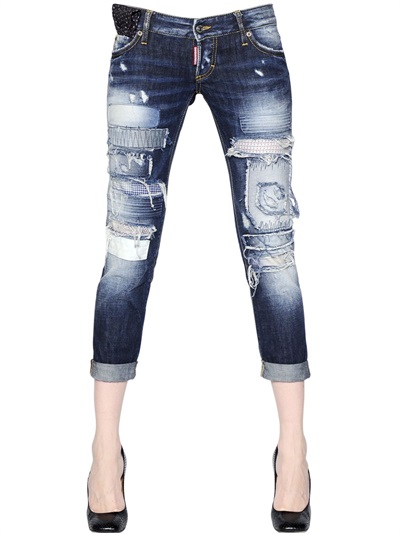 How much do I love these jeans??? Enough to pay over six hundred dollars? Well…yes! For me finding the right pair of jeans is like finding a bathing suit and that's a total pain in the butt! When I'm on the " jean hunt " and I've literally tried umpteen pairs of jeans on and I find ONE that fits…I'm so excited (and exhausted) that I #dontcarewhatthepriceis (unhashtagged means…don't care what the price is) at the point. Jeans are the one item that I'm probably going to wear five days out of seven so in the end, it's actually worth it. I love faded, worn in distressed looking jeans…so these jeans really fit the bill
.
DSQUARED'S Cool Girl Fit Jeans
feature a button
fly
closure, five pockets and leather patch with a metal logo on the back panel. These jeans can be paired with anything from Givenchy's Printed Tee to Balmain's Double Breasted Wool Blazer. I'm totally into this look!!! Look super stylish with DSQUARED and Balmain. I'm also craving the
Pat Super Patch Wash Cotton Denim Jeans
.
The best is…I don't have to jump around the room trying to get these jeans on. PHEW!!!!!!! Click the purple links to indulge.