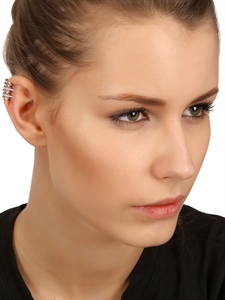 We're reposting our previous fashion-forward post from last June, 2013. If you're hoping to sport a cool look this summer than Elise Dray's Amour Clip Earring is a refreshing must-have. If you've got a very polished or classic look or want to maintain your funky boho-style, Dray's earring clip will add that edgy twist to your look. The earring clip is super stylish and makes a trendy fashion statement. Pair with anything from DSQUARED 90's Washed Cotton Denim Jeans and to Givenchy's  lambskin leather top . We always like adding a modern twist to our rather defined casual look…Dray's clip earring is that perfect touch. The clip earring doesn't say…"Look at me. I'm cool"…it just says "COOL". The series of hoops on the ear clip are made of 18kt white gold and feature 30 grey diamonds. The best is you only need to buy one!
We're also loving Dray's Left Handed Serpentine 4 Fingers Ring. The ring is 18kt rose gold and features 272 brown diamonds and 2 black diamond eyes. This is another ultra-cool sporty piece of fine jewelry for the left hand! This is definitely a unique "wow" statement piece that travels elegantly across your left hand! The serpentine design has always been a favorite of ours.You probably won't see Dray's ring coming and going on the hands you'll run into.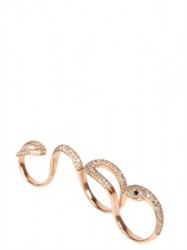 If you're really looking for something over-the-top exciting check out Dray's Jaipur Articulated Ring. This knock-out piece features 18kt rose gold, smokey quartz and brown diamonds. "Her reputation continues to grow thanks to her combination of a bohemian mood and non-conformist approach with a multitude of precious stones, intensely bright, electrified cabochons mixed with wood, onyx, diamonds, turquoise and rubies". Click the links to indulge some very unique standout jewelry pieces and some funky clothes! Dray's modern jewelry pieces are the perfect accessory to complement any outfit in your wardrobe.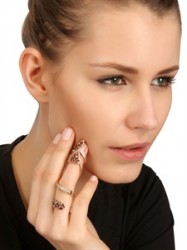 XOXO,