Designer Emilio Pucci has been busy crafting and marketing some very cool artistic works. Let's examine four Pucci pieces that might be right for your spring wardrobe. (Don't worry — soon enough, you will be able to once again wear fun hats and carry flirty bags without fearing that you'll drop them into slush and ruin them instantly.) Let's take a look at these charmers!
1. Emilio Pucci's wide brim raffia hat
This Italian made extra wide trim hat would look perfect on a mature Hollywood starlet. Doff this hat while relaxing in the Caribbean on a yacht with your new boyfriend, the viscount. It features a playful orange color and a jaunty scarf band.
2. Emilio Pucci printed placed raffia top handle bag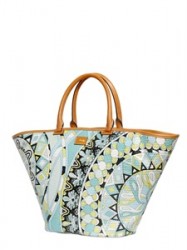 Available in both pink and turquoise, this dynamic cotton lined concoction features two leather handles, three internal pockets (two patch pockets and one zip pocket) and plush cotton lining. The ornate, elaborate patterning recalls Southwestern pottery or a Spanish fresco.
3. Emilio Pucci mini marquise python shoulder bag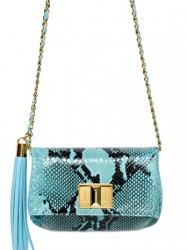 Here's another Italian made treasure. This bag features a leather tassel charm, python embossing, satin lining, and galvanized gold metal hardware. The turquoise and gold hues – accented by the decorative tassel and the gold hardware – connote luxury, if not outright royalty.
4. Emilio Pucci small mutant beaded bag
This suede lined 100% calf skin Italian bag is bedecked with resin covered beads and augmented by a detachable and adjustable shoulder strap. It's a sexy but simple modern design that would look right at home in a MoMa exhibit. Check out those four Emilio Pucci treats today, and add a little spring to your wardrobe this spring! Click the turquoise links to indulge.