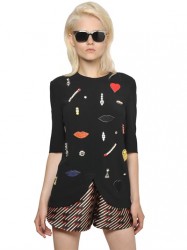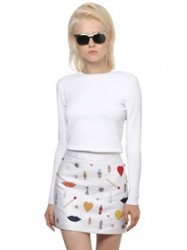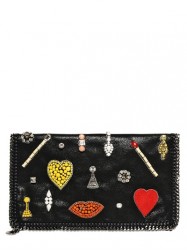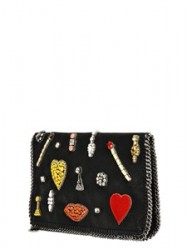 This new collection from Stella McCartney reminds me of my Chanel jacket from a few years ago. It's always interesting to see how designers recycle successful designs from the past. That being said….makes me realize my Chanel jacket with the lipstick emblem is still very wearable and in style!
I love this whimsical look from Stella but would ONLY wear one piece at a time. Carrying the bag and wearing the matching top would be a fashion blunder. I'm featuring a few pieces from the collection but there are many to choose from. As I stated in one of my posts during Xmas…the Embroidered Shaggy Faux Deer Clutch was one of my (favorite) gifts. Obviously I ordered it but gave my hubby the pleasure of paying for it!
This new collection from McCartney is playful and lots of fun to wear. These totally cool pieces…the black jeweled Cady Top and the jeweled cotton blend Duchesse Skirt feature jewel embroidered lips, hearts and matches. These pieces are fun and very wearable. Click the link to indulge. She's earned her patches!
XOXO,